Once the idea for a new product is developed and screened, concept development goes more into detail – asking:
Who would buy this?
And why?
How do customers see our product?
We develop a unique concept for your product making sure to be remembered by your customers – and eventually purchased.
"If you want to attract others, you first have to talk to them in their language."
Kurt Tucholsky (German Journalist and Writer, 1890 – 1935)
Meetings, Incentives, Conferences, Congresses, Events – you name it – we do it. No matter the location or number of people, we turn your event into a unique experience.

Our reliable network of global partners enables us to offer our full service worldwide. From the idea development to concept creation, planning, organisation and on-site service - we cover all aspects of your event. And not to mention – we are known to stick to the budget!


What we offer:
Marketing planning & strategy
Marketing collateral & infrastructure (re-) development
Marketing Support Hub
Stationary & marketing collateral management
Advertising campaign media planning
Digital marketing services
Photography and video services
Administration of marketing development funds
Fun marketing…Interested? Just ask ;-)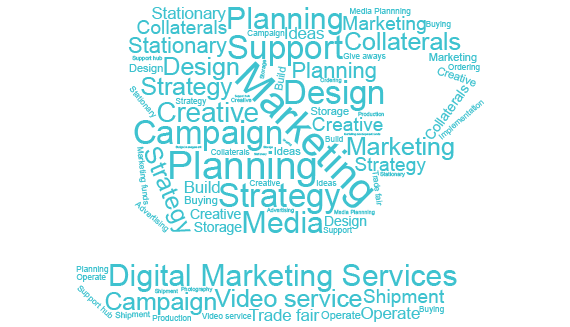 Graphic design conveys ideas through visualisation. We make sure to strike the right cord with your audience to create an emotional response.
With creativity, know-how and attention to detail our graphic design guarantees lots of "WOWs" from your audience
"Design is thinking made visual."
Saul Bass (Designer, 1920-1996)
5. Virtual Event Services
Due to the current situation we want to support all our clients to go virtual with trainings, events and conferences. We can offer a variety of different portals to hold virtual events incl. attendee management, one-to-one schedules, breakout rooms and even some fun parts that attendees can enjoy together online. Beside of this we also have experienced moderators to take over the MC part and guide the audience through the conference.

Moreover we also have different coaches that are experienced in virtual trainings and can help you to use the time to offer softskill trainings for your employees, colleagues or clients.
We have the gear to transform all great production story and mood boards to reality. Our dynamic warehouse is kitted out with all the latest and greatest hardware needed to build up anything from a one man presentation to a choreographed tech production that will blow your audiences mind away.

We offer affordable, global solutions, ensuring your story is seen and heard consistently.